The best thing about the towel is the Japanglish on it. As far as most Japanglish goes, it really isn't that bad. (Ugh, has it really been this long since I've written English? My composition gears feel REALLY rusty behind the ears today.) What's so great about it is the only word that's capitalized in the whole thing. It shouldn't be hard to miss.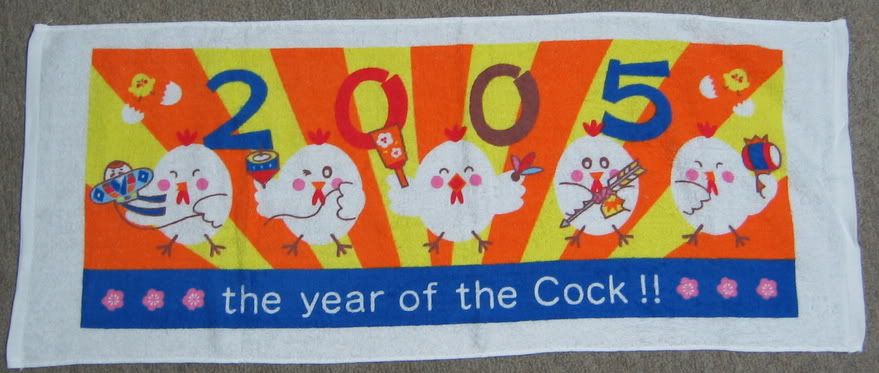 Needless to say, I cracked up when I opened it and took a peek. I think the word they were going for was "Rooster," but what they chose is technically correct, I suppose. It's just not what a native English speaker would have chosen, I think.
Anywho, just wanted to share the humor. Back to work. (Yes, I'm doing work on a Sunday, but I'm doing it at home, so it's not so bad....kinda....)
...somebody left a towel on my desk. At first, I thought somebody had misplaced it and it had just ended up on top of my stuff (random stuff ends up on my desk a lot at the office). But since Kelsye also got one just like it, and nobody had come to claim the one I found, I guessed that maybe someone had left it for me on purpose after all. I'm still curious as to who it was, although I have a theory. I saw Miyadera-sensei carting one around, but maybe that was just a coincidence.
Current Mood:

amused

Current Music:

[None]